On the way home from the Big Blanco Blowout, my travelling companions and I decided to eschew (what a great word, right?! I especially like to roll it around in my mouth when I am eschewing egum) the highly congested and eternally under construction I-35 in favor of  the meandering, back road, tiny town square tour that is Highway 281.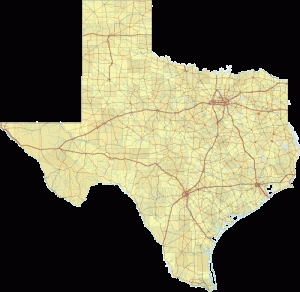 As you can see, this is Highway 281 in Texas. It goes through lots of places most people have never heard of, like Stephenville, that calls itself  "The Cowboy Capitol of The World",  or Alice, "The Birthplace of Tejano",  or Falfurrias, which doesn't call itself anything, really, but could be called "Busted!", because it has one of the highest seizure rates of illegal goods brought in from Mexico into the US by the U.S. Customs and Border Protection Patrol.  All the little towns have a faded look, though some have been restored in order to draw tourists. From where I sit, that plan doesn't appear to have panned out so well, but what do I know? Anyway, more on the Texas towns in a second. I haven't shown you the really cool thing about Highway 281 yet.
Ready?
OK, here it comes!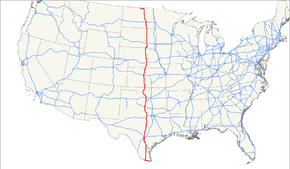 Highway 281 is the longest continuous 3-digit route in the country (evidently the fact that it has three digits is an important demarcation to somebody somewhere), spanning 1,872 miles from Mexico to Canada, straight up the middle of the US of A, through six states, and without hitting a single major city, unless you include San Antonio. Most Texans don't include San Antonio as a major city, but it is a fabulous place to visit and you should go there sometime.
Anyway, my kind of highway! Yay 281! There are all kinds of things to check out on 281, even though it would probably take months to travel it, on account of lots of it is called 'Main Street' in dinky burgs and hamlets (Burgs and hamlets! Two names for cities that sound delicious!), and much of it is only one lane. Still and all, if you have 4-6 months free -and in this age of high unemployment, you just might – consider all the cool things you could see and do on this ribbon of Americana!
You could see the largest shamrock in the world -in your Irish face, Ireland!-  in O'Neill, Nebraska. This shamrock is so big it can be seen from Google's satellite. Then again, I think Google's satellite can see into my brain, which is no bigger than a bread box – I have a small skull. So what, right? Every guy I have ever met has told me that size doesn't matter anyway.
Also in Nebraska there is Hastings, where Kool-Aid was invented in 1927, and Red Cloud, where Willa Cather was born! The fun never ends! Note to McAdams: Nebraska isn't boring! Omaha is! You need to get your lazy ass to Hastings instead of hanging around in your natural state in the great state of Nebraska!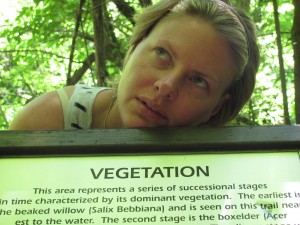 If you hit 281 in Oklahoma, you can go to Cookietown, or Andarko, which says it's the Indian Capital of the Nation because Native Americans form the bulk of the Andarko community. Andarko's pretty small though. Yup. Not much to do in Oklahoma. But you probably figured that already. Tulsa's cool, and Bartlesville has all that art deco stuff …but I digress. http://beta.travelok.com/article_page/art-deco-architecture-in-tulsa-and-bartlesville
If you go to Kansas you can see the pole art in Hoisington (it's art on poles) or go to the Miss Kansas parade in Pratt, and if you go all the way up to the Dakotas, you can see where Lawrence Welk and Peggy Lee grew up in North Dakota (apparantly, not much going on up there since the 1950's), or go to the side of South Dakota that nobody ever goes to, on account of there's just not really anything there.
But I didn't get to do any of that. Here is what I discovered on 281 in Texas: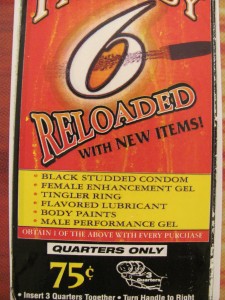 1. If you go into almost any gas station in Texas on 281 – and I frequented many of 'em, on account of I have a bladder the size of a walnut –  you will say these condom vending machines proudly displayed over the toilet. I assume they are the men's rooms as well, but I can attest for their popularity in the ladies' loos for sure. I think these are a great idea, because just a whiff of ethanol is  enough to get my motor running, but I must say, I was kind of disappointed by the selection.
Don't get me wrong; there were all kinds of things for men. They had condoms with studs, rings, levers, pulleys, kickstarts and all manner of hardware. The had glow in the dark and neon multi-colored condoms, in case your genitals want to dress up like a clown (you have to pay extra for the tiny fright wig and the oversized testi-shoes, though). For the patriotic penis, there were red, white, and blue rubbers, that, according to the little picture on the vending machine, look like the bomb pops I used to happily suck on as a child.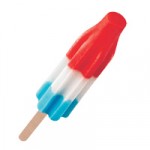 Way to taint a happy memory, prophylactic pushers!
Heh heh… I said taint!
So yeah, plenty of penis costume condoms for your man-pleasure and to make for pretty peewee, but what for the ladies?
Vaginal gel lubricant. Nothing screams sexy like that, right? Yum, yum gimme some! It only comes in one flavor – gel – and there are no extras with it, even though I think many women would jump at the chance to have some press-on rhinestones included, to bedazzle their hoo-hoos. Maybe they could sell some of those guiding lights like they have in planes to help you find the exit (or entrance, as the case may be), in case the glow in the dark willies kind of peter out with excessive use. It's been known to happen, but it's nothing to be ashamed of.
2. Just in case your partner doesn't get the hint when your dick is wearing a holiday-themed tuxedo and shooting off sparklers, small town Texas gas stations have a little somethin' extra to put her (or him) in the mood: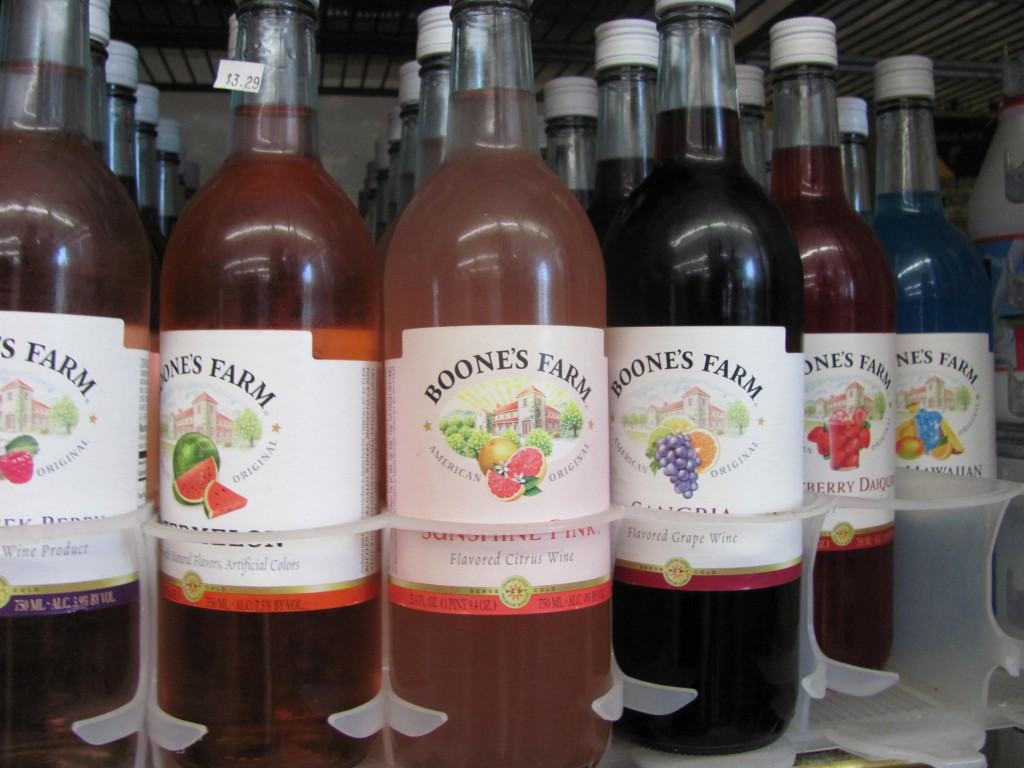 Yeah, baby, that's right- Boone's Farm Strawberry Hill Wine, the Appalachian Aphrodisiac,  $3.98 a bottle of pure-D animal love juice, marketed in the sticky-sweet flavors kids love! Dig those colors! When was the last time you had a cocktail that tasted like purple? It's been too long!
Not only did I never in my wildest dreams expect that the fine folks at Boone's farm were still producing their unique elixir, but I was thrilled to discover that since I last checked, more Boone's flavors had been developed, rigorously taste-tested, and added to the line-up. Now you can buy such sophisticated gems as Sun Peach Peak, Watermelon, Blue Hawaiian (who doesn't love bright blue alcohol?) Snow Creek Berry or Country Kwencher! Huzzah, everyone! I raise my glass to Grandma Boone for taking 7th graders to Strawberry Hill for over 30 years and counting!

Just in case you don't take my word about the joys of Boone's farm, here are some testimonials from the Boone's Farm Fan Club http://www.boonesfarm.net/reviews.html:
"Nothing goes with sitting naked in the dark watching Golden Girls re-runs on mute while listening to REM's "Everybody Hurts" like six or eight bottles of Boones." – Michael (Syracuse, NY)
"Boones is that perfect drink when you're ready to start drinking, but can't handle the taste of beer, or the effect of liquor. It also has a magical effect many have encountered, yet few talk about. Many a nights at my friend Keith's house did turn ugly women hot. Versus thousands of dollars on a facelift, ugly mugs should just buy men Boones." – John (Dallas, TX)
"Boone's Farm snow creek berry is a real good buzz pretty mellow, but you might end up talking to the cops." – Jason (Indiana)
"It's strawberry flavored booze water! What's not to love?" – Kelsey (Boise, ID)
3. There were lots of fields along the way. The fields had fences. On one of the fences there was this: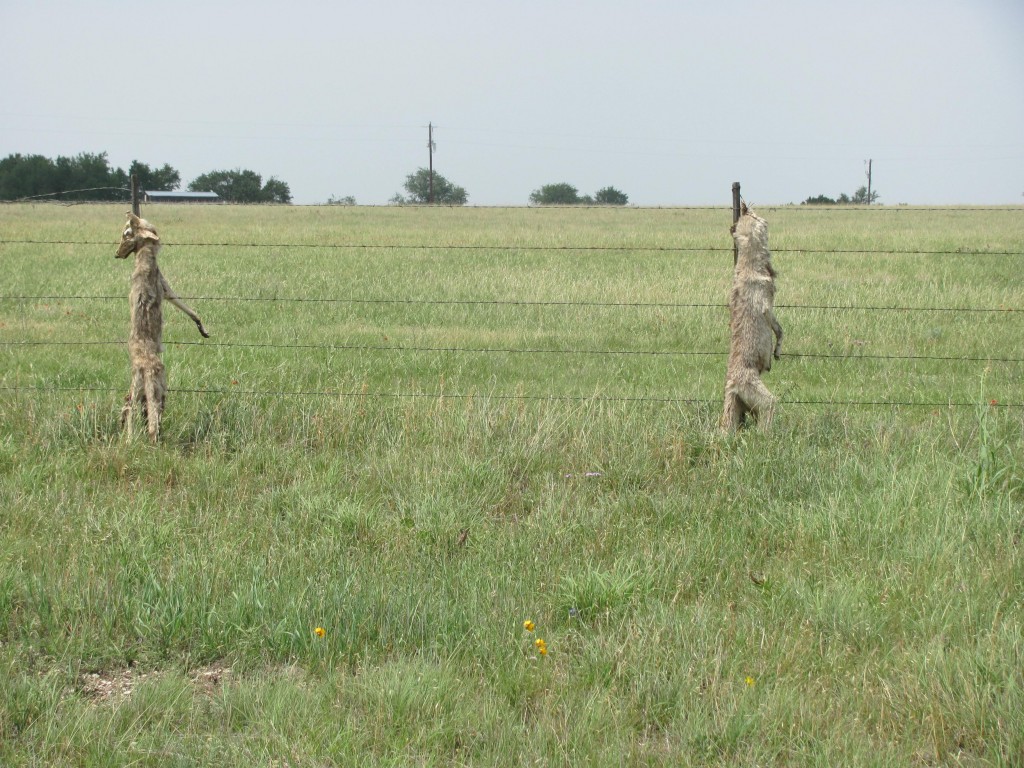 Now, that's weird, right? I understand that coyotes are wily- duh!- and that they will steal your livestock and terrorize your children. Also, like many things in nature, they are probably kind of gross and have mange, mites and scurvy. Well, maybe not scurvy. But are they that clever that they can make reasonable assumptions based on visual clues that lead them to metacognitively aware decisions that are a basis for action and reaction? I would think that the coyotes would look up and see their ex-bretheren stretched out on the fence post and think, "Well, now that's a strange place for Tom and Fredrico to nap! Maybe they was tryin' to scratch their mangy backs and got tired, but that don't look comf'table to me a-tall! Oh, well! Let's go rustle up some chickens and terrorize some kids!"
Then again, I could be wrong…
4. The trip took a magical, fantastical turn when I saw a group of unicorns in a back alley. Of course, I ran after them, hoping to catch the rainbow. Suddenly, in a shimmer of moon-dust, I made out a beautiful figure! It's a good thing the sign was there, or I wouldn't have believed my eyes!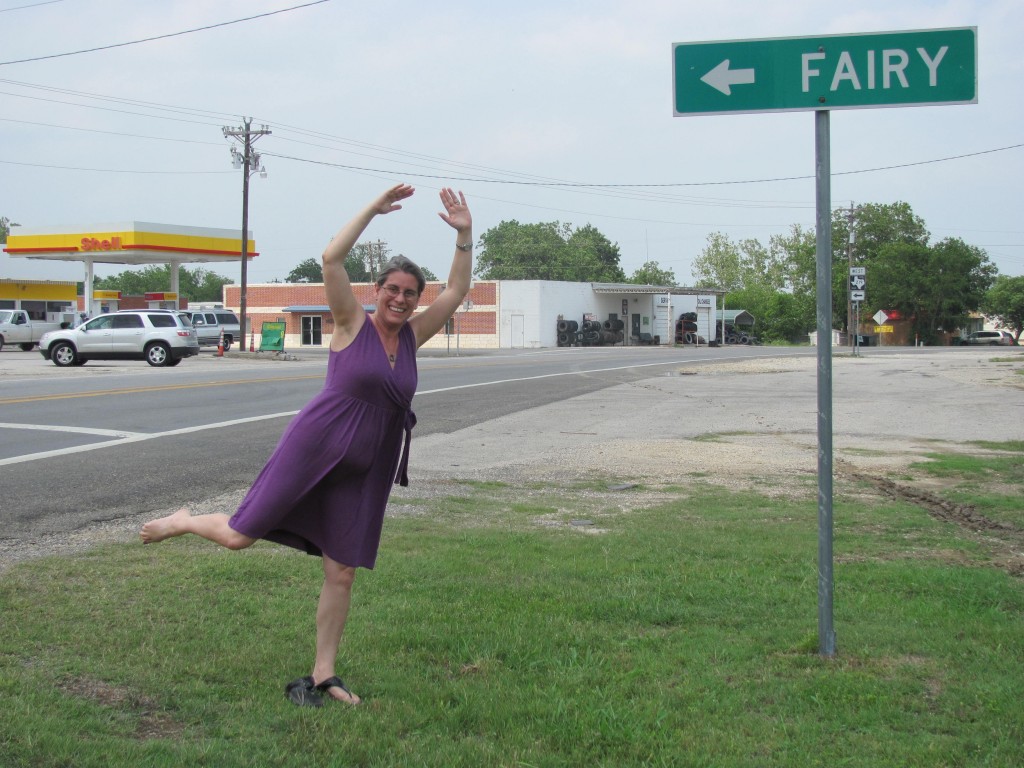 You can always tell a real fairy from an impostor, because real fairies don't wear shoes.
We also saw a rigor mortis ridden dog named Stiffy, and his little buddy, a raccoon named Pulpy.
I can't wait to hit 281 again. This time I'm going to stay in Marble Falls for at least a weekend, for sure.
Next: The beach!