"The only reason for time is so everything doesn't happen all at once."   – Albert Einstein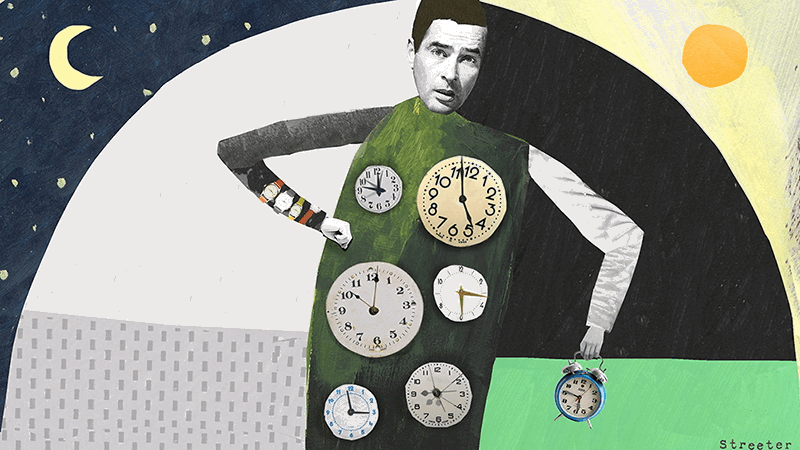 I think a lot about time. You probably know that, because I write a lot about it. I'm kind of obsessive. I think about time and memory, time and conscious and unconscious thought, time ahead, time past, time better spent, time for change, how time doesn't change, how quickly things change, the transient nature of reality from moment to moment.
Maybe I have too much time on my hands.
My cousin just had a baby boy, and his next few years will be measured by all sorts of time standards – not only will his life be segmented in days and then months, but in hours until he has to be fed, how much time has lapsed since he's urinated, how long he sleeps, milestones he reaches early, punctually, late, or not at all. The minute we pop out of the womb (we count on nine months of gestation, but due dates are kind of arbitrary, since we can time the birth according to need and convenience), we are beholden to clock or calender.
My life is compelled forward by bells that measure time, what is over and what is to begin: alarm clocks, school bells, wedding bells, blue bells of spring, telephones that ring (or don't), door bells, bells that toll. Even thoughts are measured by time – "the first time I discovered"; "I should have known then"; "I didn't realize until"; "it has often been said." Indeed, by the first time I thought these thoughts, those I have just written down, Poe had already said them with music and form.(http://www.poets.org/poetsorg/poem/bells.) Pink Floyd used bells in the poetry of the beautiful song "Time."
By the time you think a thought, it's a thought already thunk; by the time your bell is rung, it's a song already sung. By the time you write a poem about time, you know that poems shouldn't always rhyme.
Winston Smith, tragic hero of 1984, is obsessed with a nursery rhyme about the bells in different churches of London; it ends with the line "here comes a chopper to chop off your head." Time's up! Perhaps our greatest collective fear is that time will run out too soon.
We have Circadian rhythms and biological clocks. We have diseases that lay dormant like ticking time bombs, and mysterious powers of regeneration, and time sensitive skills, abilities and opportunities. Recently I read that not only do we have a master clock in our bodies that controls our natural sleep cycle, but that we also have little clock in virtually every organ and even cell, and that those clocks sync up and tick in unison, or we suffer drag or go too fast. http://www.npr.org/blogs/thesalt/2015/03/10/389596946/circadian-surprise-how-our-body-clocks-help-shape-our-waistlines
I have come up with this conclusion: time is important.
The thing is, when you look at time in relation to an individual, it does have a heightened significance, because time has a bearing on a person; we are products of our time, or we are anachronisms, or we need time to evolve into another aspect of ourselves. In an individual, time is finite and duplicitous; sometimes it crawls; others, it sprints. But on a larger scale, time is infinite, much bigger than an individual, a family, generations, an era. Time is vast and doesn't flow linearly. Time has its own life, regardless of you and me, so measuring ourselves in relation to something that is beyond the confines of numbers or units is ridiculous; yet, this is what we do. We think: by this time, I should have accomplished this, or I need to acquire that, or I want to be here. And when we fall short of these goals, we are sad or anxious.Time is so important to us, but really, what does it matter? All things will happen, in time. If we stop worrying about the past and the future, we can pay attention to the time that is right now. We can become part of time, instead of trying to control or beat it. We don't have to be time fighters.
I recently celebrated a milestone birthday, easily measured in years, decades, scores and even centuries.Half a century, anyway. I thought that at this point in my life, I would be different than I am, and that my life would have taken turns that would have brought me to a place that I am not. I don't regret very many things I have done, but I am wistful about some of the things I didn't do. At this birthday, I took stock of the past, and, for the first time that I can really recall, I thought of the future. I should be making plans, setting goals I need to reach sooner rather than later. I should plan ahead, so others won't have to plan for me. Really, when I think about it, what have I been doing all of this time? I wonder what it all means. I have lived a glorious life…but what does it amount to? Am I just passing through? Am I missing something that, once realized, will be forever mourned?
I had a party at the museum. There was beauty everywhere, from all time periods, representational of different movements, the ebb and flow of tastes and sensibilities.Friends came. Family came. There were people who have known me since I was born, and people I have known since their first breaths. Friends came from my various jobs and schools, from when I was wild and when I was tame, some who knew me as a child, some who recognize me only as an adult. There were people who have seen me cry and who have cried with me, and  who have brought me joy, insight, strength and inspiration. I have laughed and cackled and dances and sang at the top of my lungs with these people. Some of the friends I ran around with as kids brought their kids. I invited friends I know intimately and new friends I have just discovered. I thought of people who I am tied to who were not physically there, but who I felt with me, who I feel with me often.
I don't know what time means. Sometimes I don't recognize who I have been, or understand who I am, or am unable to conceive of who I will be. But looking out on a room full of relationships, of people who I love, and knowing that I am loved; when I look out, or I look in, and I feel gratitude and acceptance, and I see beauty and complexity and hope; when I realize that no matter how much time I have left, in the end, I will be happy, fulfilled and thankful; then I know that so far, I've used my time well.
Happy birthday, Ryan Robert. You have some splendid years ahead. And happy birthday to me, because I know I do, too.
Thanks to all of you who have given me five decades of goodness, and Happy Birthday to all the Pisces -Aries Peeps: Harper, KW, ED, Brandon, JWB, Em, Joe, June, Perry, BDT, Ed, Jen the C and David, Mollie and Robert, KSJW, and my godson, Raphe. I hope I didn't leave anyone out!