Today, June 8, 2013, marks the anniversary of the publication of perhaps my favorite book of all time. That book poses many questions to the reader, but if it were to ask me, in the voice of Paul McCartney, "Will you still need me…when I'm sixty-four?" , I'd say "Yes,  1984! You're as relevant today as you were the day you were born, which, coincidentally, is today!"
A few days ago, President Obama had to explain why an order from the Foreign Intelligence Surveillance Court (whatever that is) that instructs Verizon to secretly turn over "on an ongoing daily basis" the "telephony metadata" (huh?) of all of its customers is not really an invasion of privacy. http://www.newyorker.com/online/blogs/closeread/2013/06/the-nsa-verizon-scandal.html Obama wants to "be perfectly clear" that Americans know that nobody is listening to our phone conversations.
Hmm.
I read 1984 for the first time when I was 12 years old in the 7th grade. I had never read anything like it before and it totally blew my mind. I had never imagined that the government could just flat out lie; I thought that the government was made up of people, and, bottom line, people care about each other, and so we all act with each others best interests in mind. The idea that questioning was not just a privilege, but also a duty, was born and nurtured in my adolescent mind, and has been instrumental in forming the adult I am today.
The next time I read the book was my senior year in high school. This time I was amazed by the protagonist, who was given the paradoxical name Winston Smith, an extraordinary/everyman. The courage and integrity he showed because he couldn't – and wouldn't- deny his own truth became the blueprint of what a hero is to me. Of course this is the case of many literary heroes- John Proctor, Atticus Finch, Harrison Bergeron, and Guy Montag, to name just a few others from high school English- but Winston, and to a lesser degree Julia, his partner in crime, behaved how I hoped I would behave; nobly, with hope and courage, even if the odds were impossible, even if the end result was failure. I have let myself down in my quest to do what I think is right countless times, and I have succeeded a few times as well.
In college I read the novel again and that time was awestruck by the innovation and metacognitive awareness with which Orwell used language. The politics and power of communication, the beauty of craft, and the importance of nuance are what I am studying now in others' writing and in my own.
So these three things -cynicism, doing the right thing, and care in speech and the written word- have all reappeared with force and clarity in my mind today, on 1984's anniversary and in the wake of yet another growing scandal regarding personal and civil rights. I would  hope that everybody would take this opportunity to ask some hard questions as to what is "the right thing", and to figure out their opinions, and, whether they are pro-increased security in today's turbulent and volatile times, or for more government accountability and restraint, to find a way to effectively express themselves on this and similar issues.
That's what I would hope. Not what I would expect, though.
Since America is supposed to be made up of rugged individualists and in recent years we have seen a powerful and vocal uptick in those who are disdainful of government control, you'd think Verizon would have scored points by challenging the order and others like it as a selling point to consumers. "At Verizon, we care about YOU! We'll NEVER sell out your personal information to anyone or anything – NO MATTER WHAT!" I can hear the reassuring voice-over in the commercial now. But it turns out that in 2007, Verizon and two other groups were awarded enormous contracts with the U.S. government and are more beholden to that big fish client than they are little ole you and me. According to The Daily Beast in this article (http://www.thedailybeast.com/articles/2013/06/06/why-verizon-is-happy-to-help-obama-and-the-nsa-spy-on-americans.html):
In the post-9/11 world, no company or brand wants to be on the wrong side of national-security policy. And Verizon, like others in big defense and technology, is in bed with the government, including the security apparatus. They are a big customer. Verizon, of course, is a major government contractor. Back in 2007, Verizon, along with AT&T and what was then Quest, "were awarded the government's largest telecommunications contract ever, a 10-year deal worth up to $48 billion to supply various telecom needs of dozens of federal agencies," as USA Today reported. "The contract covers voice, video and data services and technologies for as many as 135 agencies operating in 190 countries. Several major departments, including Homeland Security and Treasury, have already signed up."
Then of course, we probably wouldn't care that much if Verizon did go to the mat for us. I think we just assume that everybody has our number and is listening to our conversations anyway. After all, we all know about GPS and Google Earth and cell phone towers and cameras and drones, so I think we're all pretty comfortable with the idea that if someone knows where to look, we're pretty much out there, are naked and stuff, for everyone to see.
And even if one does care about privacy and  rights, what can be done about really protecting them? If I quit Verizon (Ha! Take that! You just lost my business! Good day, sir!), where can I go? Is AT&T better? Sprint? I doubt it. I didn't expect this, though: after The Guardian broke the news of the wire-tapping, Verizon's stock went up.That's right, the company's value increased when it was caught in bed with Uncle Sam. It's like we see questionable business practices and say, "Yum, yum, gimme some! I must have a piece of that sweet, wholesome pie! Delicious and nutritious!"
In fact every day, millions of Americans give up for free the very personal sort of information you wouldn't want anyone to know to everyone. They post embarrassing pictures on facebook or instagram. They upload videos of themselves doing illegal, immoral or superdumbass things on youtube. They tell you where they're going to be and when, and when they get there, they check in, so you know they have arrived ("I'm checking in from the toilet at the McDonald's on  Hwy 260! Don't you touch the McFlurry and the McFatSack I left on the table next to the keys to my brand new tan and blue Ford 150 and my adorable toddler, Kim Carol Ann!"). They write obscene racist comments on other people's posts or write whole blogs about their innermost feelings about absolutely everything, regardless of how inappropriate or job threatening those feelings may be. Yeah. Some people do some of those things. So why should we care if the government is watching?
There is almost always complacence and compliance in the brutality and totalitarianism of the great dystopias in literature. There has to be a climate of acceptance and a willingness to go along with a new regime, from Lowry's The Giver , to Golding's Lord of the Flies, to Shteyngart's Super Sad True Love Story.* Perhaps the people get behind an idea that seems good, but then goes way bad. Like Nazism – Hitler was democratically elected into power, you know, to restore national pride and reduce a crushing economic depression. Maybe people sign on out of of fear, like fear of terrorism. That's fear of acts designed to cause fear. That makes sense, because fear is scary.
Which brings me back to Winston. He was always scared. At first, all he could do was muster up the courage to think, after years of conditioning, "I don't believe them. Something is wrong. And even if they tell me I'm crazy, and even if I believe I may be crazy, I am right."
It took him years to act on this idea, and when he did, he was caught and tortured and re-educated and forced to deny his faith, which is a belief in something that is so strong that reason is rejected. In the end, he lost.
But at least he cared.
Happy Birthday, 1984. Thanks for making me care, George.
*You still haven't read it, right? Why won't you? It's so good!
Also: Happy, happy birthday McAdams! You've come a long way, and I look forward to seeing where you will go next! I love you!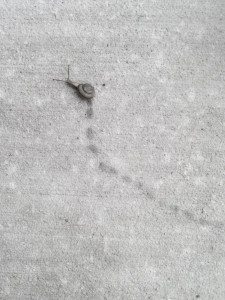 AND! Happy birthday to Renaissaance Man, Mikey the C! I'll see you tonight!