Robert Frost said, "Poetry is what gets lost in translation." I quite like this quote, as well as the movie that references it, but I can't figure out if it means that one can never really capture the poetry of a situation, because it always gets lost, or if poetry emerges when something is lost – meaning, perhaps? Clarity? Comfort? Order? – in translation; in other words, when expectation or analytical significance is lost, poetry is gained.
Oh Frost! So simple, yet so complex!
I have recently finished one book, and reread another, both of which stunned me with their poetry and creativity. The new book is Black Swan Green, by David Mitchell, who is the author of Cloud Atlas. Here is a picture of swans.
The black swan in the picture is really just a duck, but you probably knew that.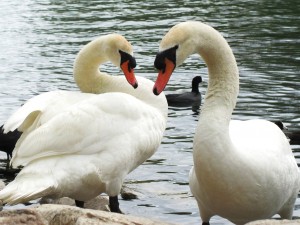 Black Swan Green is the story of a year in the life of a boy, Jason Taylor. It is a coming-of-age story, or, as they say in Germany, a bildungsroman. (Yeah, that's right! I know that word! I said it, and I know what it means! Of course,  I don't know why anyone who is writing in English would ever use it instead of "coming-of-age-novel", which is a perfectly good and completely comprehensible term, but I like to be pretentious, and then show that I know that I am pretentious, thereby establishing myself as down-to-earth and adorably self mocking.)
I love the story of the novel, and the way the characters are built. It is funny, poignant, profound, surprising, captivating and universal, though it is set in a very specific place and time. But that's not what really got me about this book; what makes this book so amazing is the language it is written in, the poetry of it. Mitchell is brilliant (or 'brill', as Jason Taylor would say). He is so original, so creative, and so true to his own stylistic devices and perspective that the two books I have read by him are different than anything else I have ever read.
I underlined half the book. Here's how Jason describes skating by himself in the early morning: Round and around in swoopy anticlockwise loops I looped, a stone on the end of a string. Overhanging trees tried to touch my head with their fingers. Rooks craw…craw…crawed, like old people who've forgotten why they'd come upstairs.
Here's another brief passage: The world won't leave things be. It's always injecting endings into beginnings. Leaves tweezer themselves from these weeping willows. Leaves fall into the lake and dissolve into slime. Where's the sense in that?…The world never stops making what the world never stops making.
That's nothing. Here are some more random lines:
A cow of an awkward pause mooed.
A shame bomb blew my head off.
[I] held her opal brooch over one eye. I looked through it at the sun for secret colors nobody's ever named.
New leaves oozed from twigs in the hedges.
Maybe I heard a poem, seeping from [the garden]. So I stood and listened, just for a moment, like a hungry robin listening for worms.
"Probably" is a word with an emergency ejector seat.
Sunlight on waves is drowsy tinsel.
These jewels that glint under the bright light of scrutiny don't do justice to the music of the book, the song of the words, and the melody of the story. This is a case of not being able to catch the poetry of getting lost in the pages. I can't give you the poetry, because I lose it in the telling. You'll just have to read it yourself.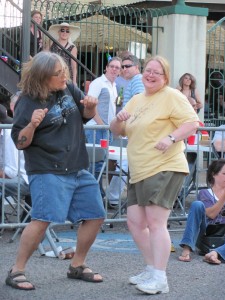 The other book is Dancer, by Colum Mcann. I adore this book. It is absolutely one of my favorites of EVER. It is so unbelievably well-written, so innovative, so glorious. It's about Rudolf Nureyev, and it combines all kinds of different forms of expression; lists and letters, shifts in subject, time and perspective, history and story, fact and fiction, prose, and poetry and some of the richest, most evocative imagery and diction I have ever had the pleasure of discovering. One chapter, which runs for 32 pages and spans less than 24 hours and is made up of one, single, unbelievable sentence (Suck it, Proust!), makes me almost laugh out loud with the insane, ecstatic purity of it, with its rhythm and swagger, its highs, lows, slow builds and crescendos, with it's sheer genius – I am left breathless at the end of the chapter, panting. And then I turn back and read it again.
I would give you a taste of this chapter, as it illustrates perfectly the second possibility of my Lost In Translation question – that maybe what it means is less important than how it feels, and how it feels is the poetry of it all – but I have learned my lesson in trying to translate. You'll just have to read it for yourself.
Plus, like I said, it's long. I don't have time to read and think and write for you, now do I?! I got a life to lead, Cha Cha! Now get outta here and leave me alone!
Special thanks to Jonny-Boy, my fahrvergnugan wunderkind, who knows how to use a smartphone like a raketenwissenchaftler and widens my weltenschauung everytime I see him!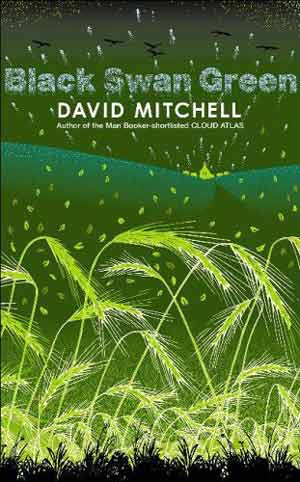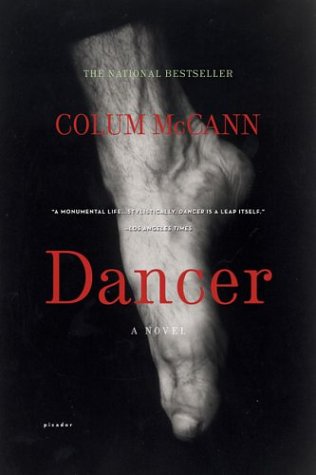 Look at these gorgeous black swan dancer (ah, serendipitous synchronicity!!!) posters by La Boca Design http://www.laboca.co.uk/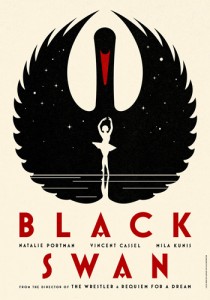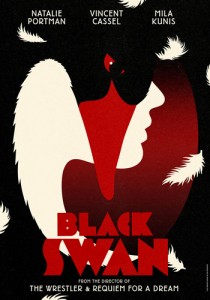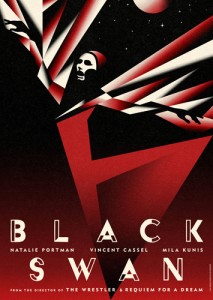 and to see more waycool posters, check this site out: http://flyergoodness.blogspot.com