The Inquisition, Boko Haram, and What God said to Abraham
Interesting to know, in the shadow of a sign, that God says:
Son, live for me, and if it is my will, die for me a sainted death
Insane to know, in the sunglint of a scimitar, that God says:
Son, my will is for you to kill, and you will live a sainted life
AVR, 9/25/2014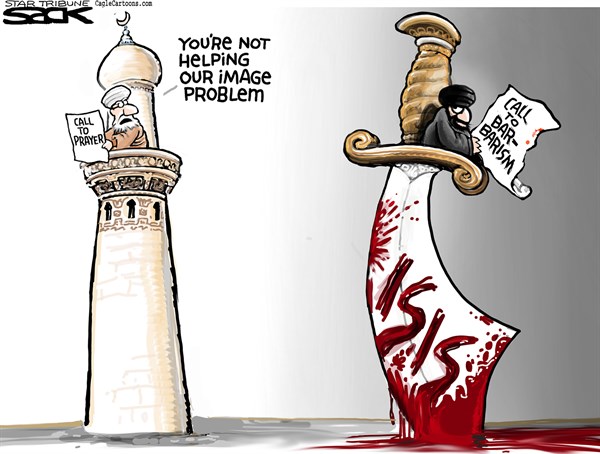 Iraqi woman activist killed by Islamic State
By VIVIAN SALAMA September 25, 2014 3:03 PM
BAGHDAD (AP) — Militants with the Islamic State group tortured and then publicly killed a human rights lawyer in the Iraqi city of Mosul after their self-proclaimed religious court ruled that she had abandoned Islam, the U.N. mission in Iraq said Thursday.
Gunmen with the group's newly declared police force seized Samira Salih al-Nuaimi last week in a northeastern district of the Mosul while she was home with her husband and three children, two people with direct knowledge of the incident told The Associated Press on Thursday. Al-Nuaimi was taken to a secret location. After about five days, the family was called by the morgue to retrieve her corpse, which bore signs of torture, the two people said, speaking on condition of anonymity because of fears for their safety.
According to the United Nations Assistance Mission in Iraq, her arrest was allegedly connected to Facebook messages she posted that were critical of the militants' destruction of religious sites in Mosul. A statement by the U.N. on Thursday added that al-Nuaimi was tried in a so-called "Sharia court" for apostasy, after which she was tortured for five days before the militants sentenced her to "public execution." Her Facebook page appears to have been removed since her death.
"By torturing and executing a female human rights' lawyer and activist, defending in particular the civil and human rights of her fellow citizens in Mosul, ISIL continues to attest to its infamous nature, combining hatred, nihilism and savagery, as well as its total disregard of human decency," Nickolay Mladenov, the U.N. envoy to Iraq, said in a statement, referring to the group by an acronym. The statement did not say how she was killed.
Among Muslim hard-liners, apostasy is thought to be not just conversion from Islam to another faith, but also committing actions that they believe are so against the faith that one is considered to have abandoned Islam.
Mosul is the largest city held by the Islamic State group in the self-declared "caliphate" it has carved out, bridging northern and eastern Syria with northern Iraq. Since overrunning the once-diverse city in June, the group has forced religious minorities to convert to Islam, pay special taxes or die, causing tens of thousands to flee. The militants have enforced a strict dress code on women, going so far as to veil the faces of female mannequins in store fronts.
In August, the group destroyed a number of historic landmarks in the town, including several mosques and shrines, claiming they promote idolatry and depart from principles of Islam.
Al-Nuaimi's death is the latest in a string of attacks by the militant group to silence female activists and politicians. In July in the nearby town of Sderat, militants broke into the house of a female candidate in the last provincial council elections, killed her and abducted her husband, the U.N. said. On the same day, another female politician was abducted from her home in eastern Mosul; she remains missing.
Hanaa Edwer, a prominent Iraqi human rights activist, said at least five female political activists have been killed in recent weeks by the Islamic State group in Mosul, including al-Nuaimi, who Edwer said was also running for a seat on the provincial council.
"But it is not just women being targeted," Edwer said. "They will kill anyone with a voice. It is terrifying."
The Gulf Center for Human Rights said Wednesday that al-Nuaimi had worked on detainee rights and poverty. The Bahrain-based rights organization said her death "is solely motivated by her peaceful and legitimate human rights work, in particular defending the civil and human rights of her fellow citizens in Mosul."
The Islamic State extremists' blitz eventually prompted the United State to launch airstrikes last month, to aid Kurdish forces and protect religious minorities in Iraq.
This week, the U.S. and five allied Arab states expanded the aerial campaign into Syria, where the militant group is battling President Bashar Assad's forces as well as Western-backed rebels. Despite making gains in some of the country's more isolated areas, where airstrikes have paved the way for successful ground operations by Kurdish and Iraqi forces, the cities of Mosul and Fallujah remain major strongholds of the group, which has buried itself among large civilian populations.
The militant group recently killed 40 Iraq soldiers and captured 68 near Fallujah and then paraded their captives through the city in a show of brawn.
Nearly a dozen countries have also provided weapons and training to Kurdish peshmerga fighters, who were strained after months of battling the jihadi group.
In other developments Thursday, German Defense Minister Ursula von der Leyen visited northern Iraq for talks with Kurdish leaders about the fight against Islamic State extremists and Berlin's efforts to help with arms deliveries.
Thursday also marked the start of German arms deliveries to the semi-autonomous Kurdish region, with the ultimate goal of supplying 10,000 Kurdish fighters with some 70 million euros ($90 million) worth of equipment.
"We are involved with relief shipments and the airlift, but we know that this is not sufficient," said von der Leyen. "Much more is needed to get these (millions of people) through the winter."
Associated Press writer David Rising in Berlin and Bram Janssen in Irbil and an Associated Press reporter in Mosul contributed to this report.