So, you're probably wondering what's going on these days in Idaho City, Idaho. (I can read you like a book! I know who you are and I know what you like to eat! Who's been bad or good, who's been naughty or nice! I know! You can run, but…well, you get the picture!)
Funny you should ask, because I happen to have a full report!
Ah, Idaho City! Nestled off Highway 21 about an hour outside of Boise*, Idaho City can easily be found by the Sinclair gas station that is directly across from it. (This Sinclair doesn't have a big green dinosaur anywhere on the premises, so don't get your hopes up.)
Recently, Idaho City was hopping! The 150th anniversary of gold discovery was celebrated this summer, so of course I went there to document the festivities for you! You're welcome! The 458 residents of IC were simply overrun by tens of visitors who came to check out the parade, the living history reenactments in the park, the brats and beer, and the…well, that's pretty much all there was to check out, but really, what more could you want?
Scenes from the parade: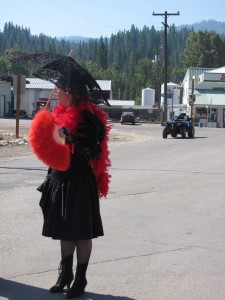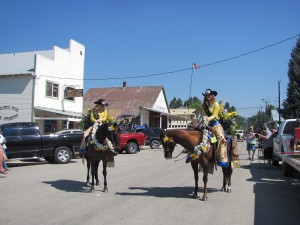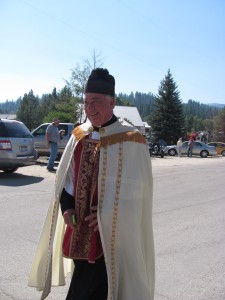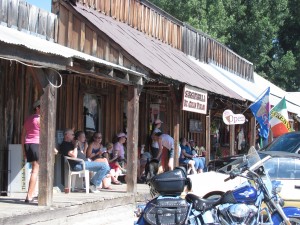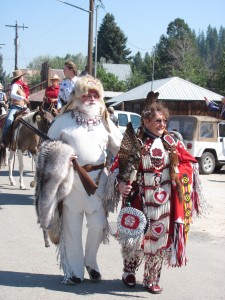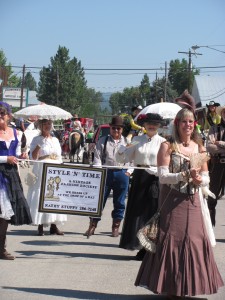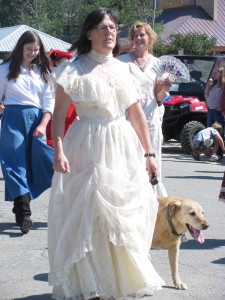 Yeah, that's right! Horses, hogs, harlots, Indians and the Pope! Everybody who is anybody showed up!
As you can see, the architecture of Idaho City is – how shall I put it – retro. Here's a little background: On August 2, 1862, gold was struck in the Boise Basin, and Idaho City became a bustling center of commerce and society by December of that year. By 1863, as many as 20,000 miners had descended upon the area. At its peak, Idaho City had more than 250 businesses, including opera and theater houses, a bowling alley (the earliest and most primitive forms of bowling date back to ancient Egypt and the Roman Empire, but official rules weren't established until 1895. You heard it here first, folks!), pool hall, law offices, barbers and lots of saloons. There was a Masonic Temple, a Catholic church, and an International Order of Odd Fellows Lodge, all of which still stand today. Idaho City was the largest mining town in the Pacific Northwest, and the largest city between Saint Louis and San Francisco.
The population was true Wild West. People, including about 4,000 Chinese immigrants, came to make their fortune off of gold, gambling, and the opportunity that comes from large groups of people making big money suddenly, celebrating good fortune, and desperately trying to defend or steal what they thought was rightfully theirs. Men went armed at all times and whiskey was cheaper than water. The jail was oftentimes full. Here are some pictures of the Idaho Territorial Penitentiary, built in 1864.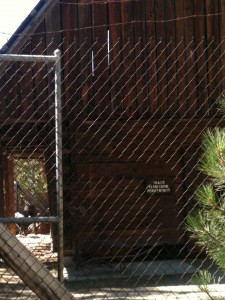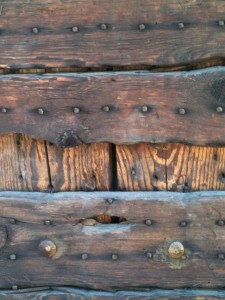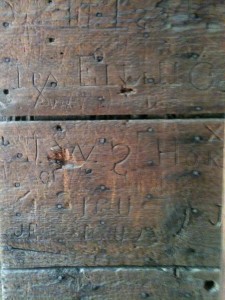 All those nails and studs in the second picture were hand made. That's craftsmanship! The graffiti is old school; I don't know if you can make it out, but I think it says "E.L.+Bieber 4evah."
There was so much rancor and discord in the town that one reporter wrote that a typical day consisted of "angels weeping, men cursing, dogs fighting, and there is murder in the midst of everyone." Out of the first 200 people buried in Pioneer Cemetery, only 28 died of natural causes. (Special thanks for all this information goes to the Trudy's Kitchen menu, from which I borrowed liberally. Trudy's Kitchen, 3876 Highway 21, Idaho City, Idaho – the best meal in all of Boise Basin!)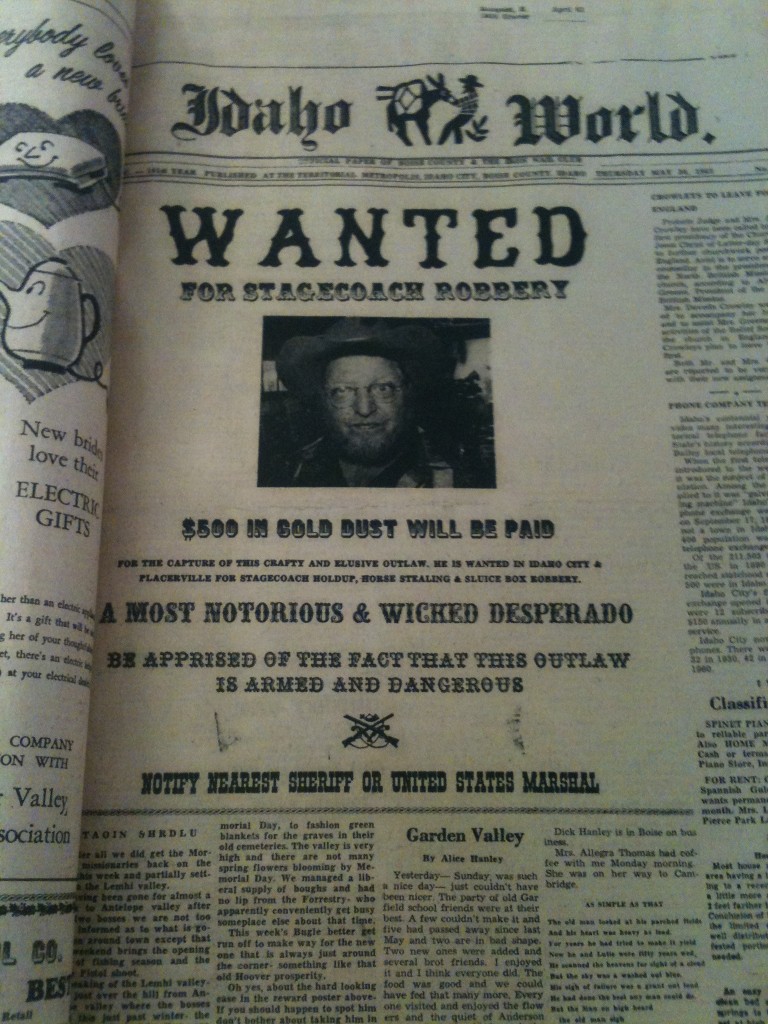 In Idaho City – as well as in present day Idaho – fire was a constant threat. Eighty per cent of IC burned down in an hour and a half in 1865, but was quickly rebuilt…and burned down again two years and a day later in 1867. More fires came and went in 1868 and 1871, and diseases spread.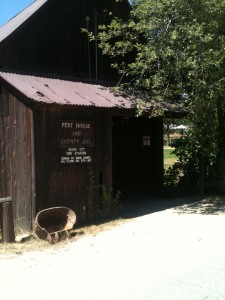 Here is a picture of the county jail and pest house. The term (pest house, not jail – DUH!) comes from the word pestilence, which spread all through the crowded, dirty camps and communities. These pest houses were considered the best way to keep from transmitting diseases like small pox and diptheria, which were often treated throughout territorial Idaho with quinine and whiskey. In 1867 there were 7,000 people in IC, but by the time Idaho became a state in 1890, the population was down to 500.
Q. Who is hotter? Me, or this fire on the mountain that has been burning in a 130 mile swath of land for at least two weeks and is expected to continue until the rains of October put it out?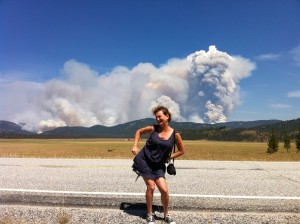 A. Me! It's me! I'm totally hotter than the fire! Idahotho, fo sho!
And that brings us to IC today! There are two paved streets in Idaho City, commonly referred to as "the one street or the other." They run for about four blocks, but by the time you've reached the second one, you're pretty much on the outskirts of town. There are a couple of bars, a lot of historic buildings, and a museum with four rooms and a video that plays on a loop. There's a cool toy store called "Simply Fun" and a courthouse. There are a lot of antique stores (though I guess 'antique' is a relative term) and an artists' cooperative. There is no Freedom Trail there, but there is a Freedom Bench.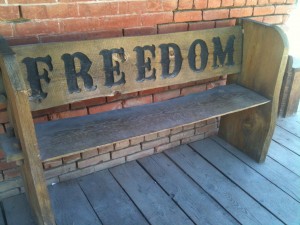 So I guess what I'm trying to say is, it's kind of small. The first night I was there I stayed in the hotel. I was the only guest. I don't think I've ever experienced that before! I was awakened pre-dawn by an otherworldly howling, followed by whines and cries of the local dogs. That was odd. But also cool.
The best thing about Idaho City is the people. They are the kind of individualists one would expect to meet in a place so remote and rural, but everyone seems to get along and they look out for each other. And they're happy. They party hard and they enjoy their lives. Music floats across the dusty streets from behind screen doors and patios, or drifts out the windows of a passing truck. They are not concerned with fashions or trends, but have a great love for things of simple beauty. Several people proudly told me, "We're here by choice!", and they don't complain about electricity that goes out, being housebound in the winter, spotty internet or the lack of modern conveniences or plenty of choices.
Idaho Cityites laugh a lot and often. They created a university – Idaho City University, or ICU. It's a state school; a state of mind, that is. It's motto is "Semper ubi, sub ubi", which, roughly translated, is Latin for "always wear underwear." The mascot is a sqawfish, whatever that is. As far as I could tell, the purpose of the school is to have theme parties. It's a different twist on higher education, but one I can fully get behind.
Most of all, I will remember that everyone I talked to was really nice. They all seemed interested in meeting me and talking to someone new. They were genuine and kind. From the greasy bikers who took time out from buying lots of beer to help me pick out the perfect watermelon, to the lady at the museum "Hey! My name is Chet! Welcome! Where are you from?", to Jennifer, who welcomed us with open arms when we arrived unannounced at her beautiful house on a mountaintop to watch the sunset. She brought out a bunch of binoculars and taught us how to zoom in on tiny, jeweled hummingbirds as they fed just feet in front of us. It was amazing! Before we left she got a phone call telling her that her grandson, Hudson, was on the cover of Vogue.
That's how Idaho City is. You think you've seen it all, and that while it is quaint and interesting, there is not much to it. But it keeps unfolding in unexpected ways. It's a lesson in keeping an open mind and happily receiving whatever may come. It's a place where you take life slowly and look for what is right in front of you, but that you can't always see.
What a great vacation!
*Do you see a 'Z' in Boise? that's right, you don't, cuz there AIN'T no 'Z' in Boise!** The true Ho's (Ida and No, Uda – still funny, right?!) pronounce it Boy-see. It comes from a woods the pioneers saw; wood in French is 'bois', pronounced 'bwah', but Americans don't talk like that, so Boy-see it is!
**There will, however, be a 'z' in the Zombie Apocalypse, at which time your vehicles will be in peril, but only in areas that are clearly marked and posted.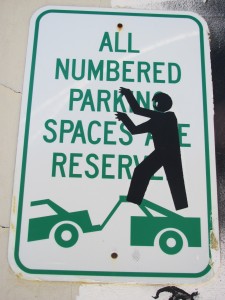 http://www.idahostatesman.com/2012/09/01/2253592/idaho-city-opens-its-doors.html
Super special shout out to the three R's of my IC Education – Rhonda, Ron and Ralph! I will never forget this wonderful vacation! Here's to many more!